Coming from multicultural backgrounds, AHEAD's creative directors Homan Rajai and Elena Dendiberia like to define their collaboration as a new Silk Road: a juxtaposition of Eastern and Western identities and an exploration of the possibilities inherent in combining contrasting elements—contemporary and primitive aesthetics, logic and intuition, raw and refined textures—when creating modern evocative environments.
We sat down with Homan and Elena to discuss embracing their multi-cultural backgrounds, how tradition and craftsmanship factor into their work and the moment they realized they were dreaming a similar dream.
"We were both into the democratization of design. We were into the warm glow of Noguchi's paper lanterns, rather than the imperialist energy of gold-leafed chandeliers."
Can you tell us how you met and how Studio AHEAD was formed?
HR: We were working for a design firm focused on seventeenth to twentieth-century European antiques. We were totally fish out of water, an eccentric Iranian and a modelesque Russian, peddling antiques in our twenties to clients who were three times our age. The more we got to know each other, the more we realized that we were dreaming a similar dream. We gravitated toward the raw, organic wood forms of JB Blunk and Ido Yoshimoto, more than the marquetry of a Louis XVI commode.
We were both into the democratization of design. We were into the warm glow of Noguchi's paper lanterns, rather than the imperialist energy of gold-leafed chandeliers. More interested in sitting on a Bellini or a Persian divan with pillows thrown around than on a stiff settee.
This led us to start dreaming up our firm. We didn't want to use our names because that seemed a little bit of the old-world. We respect firms like The Archers and Commune who are team oriented. It's reflected in their names.
We came upon the word AHEAD for our firm because we want to be forward thinking; and then we designed the logo to have a hieroglyphic feel, consisting of only lines. Some people can't even read it when they first see it but they like the lines and the composition. It goes with the primitive modernism that we like to show in our work and want to develop more in our practice.
We had all these great ideas, conversations—and then we got our first client: a child who was yet to be born. Baby J. He's three now, and still one of our favorite clients. The inception of our design firm coincides with the birth of our first client. We love that.
ED: We both met working in interior design. We quickly realized that we have complementary skills and share a similar vision, which was different from the majority of local interior design firms. We appreciate craftsmanship that marries traditional approaches with modern and primitive aesthetics. We like embracing our multicultural backgrounds and learning from history and nature around us. We value a good sense of humor and try to create spaces that are not overly serious, but rather relaxing with a sense of ease.
It felt like Wild West at the time: a field of endless opportunities, where our niche wasn't really represented much, so we hit the road.
How do your different creative styles influence your projects?
HR: We are creating intimate spaces that people live in. I am Persian and have lived abroad in Kenya and Mexico. Elena comes from a Russian background. We know not to make assumptions on how people feel comfortable living. We know this because amongst ourselves we have our own dialogues about design, function and comfort.
Since we are based in Northern California, we have diverse clients, people from South Korea, India, Iran, Russia, the Jewish diaspora, etc. We like to ask very simple questions, for instance: How do you like to sit? A question like that has so many cultural implications and so many design opportunities.
One of our clients from South Korea likes everything low and loves to sit on the floor. We took note of this and custom designed a large-scale coffee table with rounded edges, so that when she sits on the floor cross-legged, she can tuck her legs under comfortably. It's the right height for her to work, read, eat. It's one of her favorite features in the space we designed. Last time we were there we were happy to see she was doing a ceramic project on the coffee table. That's a success to us!
ED: I think the fact that we come from different cultural and ethnic backgrounds is a big advantage for our team, as it opens up a broader dialogue about what design, aesthetics and comfort essential are, and how these concepts mutually influence each other. Having a diverse cultural experience definitely helps to be more open-minded about different points of view and lifestyles. We try to stay curious and always learn from our clients and each other.
I was born and raised in Russia, and moved to San Francisco seven years ago. Homan comes from a Persian family, who moved to the States escaping the Iranian revolution back in the 70s.
Homan is more conceptual thinking, working on a macro-level, and I am more detail-oriented and hands-on. We like to define our collaboration as a new Silk Road: a juxtaposition of Eastern and Western identities and an exploration of the possibilities inherent in combining contrasting elements—contemporary and primitive aesthetics, logic and intuition. We resonate with humble, locally sourced materials like wool, felt, rough wood, ceramic, and rammed earth. And we deeply respect traditional craft. With this in mind we like to challenge ourselves by always thinking about how we can marry these materials and craft natively to the region with new, forward-thinking ideas.
There is no gap between the products we create and the studio aesthetic. As there is no gap between the studio and our personal aesthetics. It all pretty much sums up the lifestyle we resonate with: loungy, nature-inspired, eclectic and minimal, with a focus on the rich arts-and-culture dialogue of Northern California.
Are you working differently than you had before the pandemic?
HR: We worked completely differently during the pandemic: zooms and social distancing per the pandemic norm.
We started going to our new office in Potrero Hill in September and I can't tell you what an uplifting moment that was for the whole team. The creativity, the camaraderie and communication that happens from being with one another.
ED: I think it is crucially important for people who work in the creative industry and especially those who deal with physical spaces to be able to work closely and have in-person communication. It's been just over a month for us but I already feel the difference. There is certainly more excitement in sharing ideas, brainstorming and simply communicating when it happens in the present moment under the same roof.
How does environmental sustainability factor into your projects?
HR: We believe there is a Northern California cultural narrative that needs to be told. Similar to how Alice Waters brought local farm-to-table to a wider audience, we try to bring local design to the home. There are emerging talents here like Ido Yoshimoto in Inverness, Jessie Schlesinger and Jessica Switzer in Sebastopol, Linda Fahey in Pacifica. All of whom work with humble Californian materials like wood, wool and ceramic. They live in forests and on the beaches in some of the most beautiful parts of Northern California. Their work and lifestyle is a representation of what we love about this area.
Ido lives up a mountain on a dirt road overlooking groves of redwood forests, and goes mushroom hunting on the weekends; Jesse lives part time on a gravenstein apple orchard; Jessica has a vineyard on her property along with sheep; Linda starts her morning with hikes along the Pacific coast every morning. We've been to all these places and these artists'/artisans' lifestyles are Northern California to us, and the lives they lead are represented in their work.
We try to propose them to our clients; and we tell their stories on our blog, California: A Journal.
ED: Fostering a sense of community is an important part of our design process. There are a lot of humble artisans in the Bay Area who work with regional materials and continue traditions of local craftsmanship. Their prices and processes are different from mass-market retailers that are producing their goods overseas. Our goal is to educate our clients and tell them about the value of local craftsmanship vs. mass-market. Make them curious, meet with artists and tell their stories; what influences and inspires them.
The Bay Area has a broad community of craftsmen and artisans that we are in a constant process of discovering. This journey along with the desire to give back to the local community of artisans we work with made us start California: A Journal, inspired by Northern California's vibrant culture. Each month we spotlight an artist, designer, architect or any other type of creative persona that inspires us.
It is especially empowering to know that we are not alone in this journey. We were recently invited to participate in a show, "Temporarily Available," in Berkeley with one of our pieces made in collaboration with a felt artisan from Sebastopol, JG Switzer. The show brings together eleven local makers and aims to inspire viewers to explore the local talent the Bay Area has to offer. Another great example showcasing local artists and artisans is The Jones Institute, an "institution" located just in the living room of its founder, Aida, in the Alamo Square neighborhood in San Francisco. Each show completely transforms the space and is wonderfully curated.
What would you consider to be the most substantial change in the field of design since you opened your firm?
HR: Design media outlets being more conscious that they should promote and be in search of BIPOC. Life is about opportunities. It's been a long time coming. People need the opportunity to grow their creative practices. Luck is when preparation meets opportunity. You can be as prepared as you like but if there is no opportunity there can be no creation. Media helps create opportunities for people. For a long time and still to this day it has been Eurocentric, but it's changing. Also, just like Elena and I's multi-cultural collaboration, it enriches design when there are multiple points of view presented.
ED: The most substantial change just happened recently with the pandemic. It dramatically shifted the focus from outward to inward. Spending more time in our homes we rediscovered the value of our living spaces. Being isolated from social experiences outside made us think of ways to create those experiences inside our homes. Whether it is creating a more comfortable environment for home office, upgrading your kitchen, rediscovering the value of your dining room, etc. The pandemic started this process that is still continuing.
How do you see the world of design changing for the better in the future?
HR: We just co-hosted an event last month with the Svane Family Foundation created by Mikkel Svane, the founder of Zendesk. The foundation's inaugural exhibition, Ark, featured 100 local artists who were given grants totaling one million dollars. The purpose was to create works mostly responding to the pandemic and what life might be like after. Each work was auctioned off in September and all proceeds went to ArtSpan, which supports the Bay Area's art ecosystem.
We are also participating in a debut pop-up exhibition focused on celebrating Bay Are Design called Temporarily Available by Aditions. The show will be in Berkeley from October 9th to November 21st featuring 11 Bay Area Artists and Designers including our Sheep Tapestry.
During the pandemic, especially in Northern California, we became very conscious of our local communities, systemic racism through Black Lives Matter, and the environment when we saw our beautiful natural Northern California ecosystem burning.
This is indicative of the change happening in design. People feel a responsibility to be conscious of where their furniture and art is coming from. How, with the purchases for your house, are you supporting your local community, BIPOC communities or the environment?
ED: Being conscious of how and what we consume is important. What we eat is equally important, as is what we build our furniture from, the objects of everyday use, our homes. I respect the tendency of art and design influencers to start dialogue about the future of reusable and upcyclable materials, and spotlighting these ideas. Rossana Orlandi with her international Guiltless Plastic contest is a great example of promoting the idea that plastic itself is not something to blame, but rather that plastic waste can be considered as one of the biggest resources available with a potential to be transformed.
What would you tell your younger selves today?
HR: My younger self was only yesterday. I'm not that old! I think I'm telling my older self to remember things I believed as my younger self: keep fantasizing, keep imagining, explore the world based on your random interests. Those helped to get us to the great place that we are with Studio AHEAD. So many times with our clients, the houses we work on, the studios and artists we visit, our office, I think "wow I'm living that fantasy I had in my early twenties." I don't want to forget that as we keep on growing and expanding.
ED: Be courageous, don't be afraid of making mistakes, try and fail and try again. I am still telling myself all these things. And hey, I am still young.
Studio AHEAD will be presenting at ICFF (International Contemporary Furniture Fair) from November 14-15 in NYC.
They are also participating in a debut pop-up exhibition focused on celebrating Bay Area Design called 'Temporarily Available by Aditions'. The show will be in Berkeley from October 9 – November 21 featuring 11 Bay Area Artists and Designers including their Sheep Tapestry.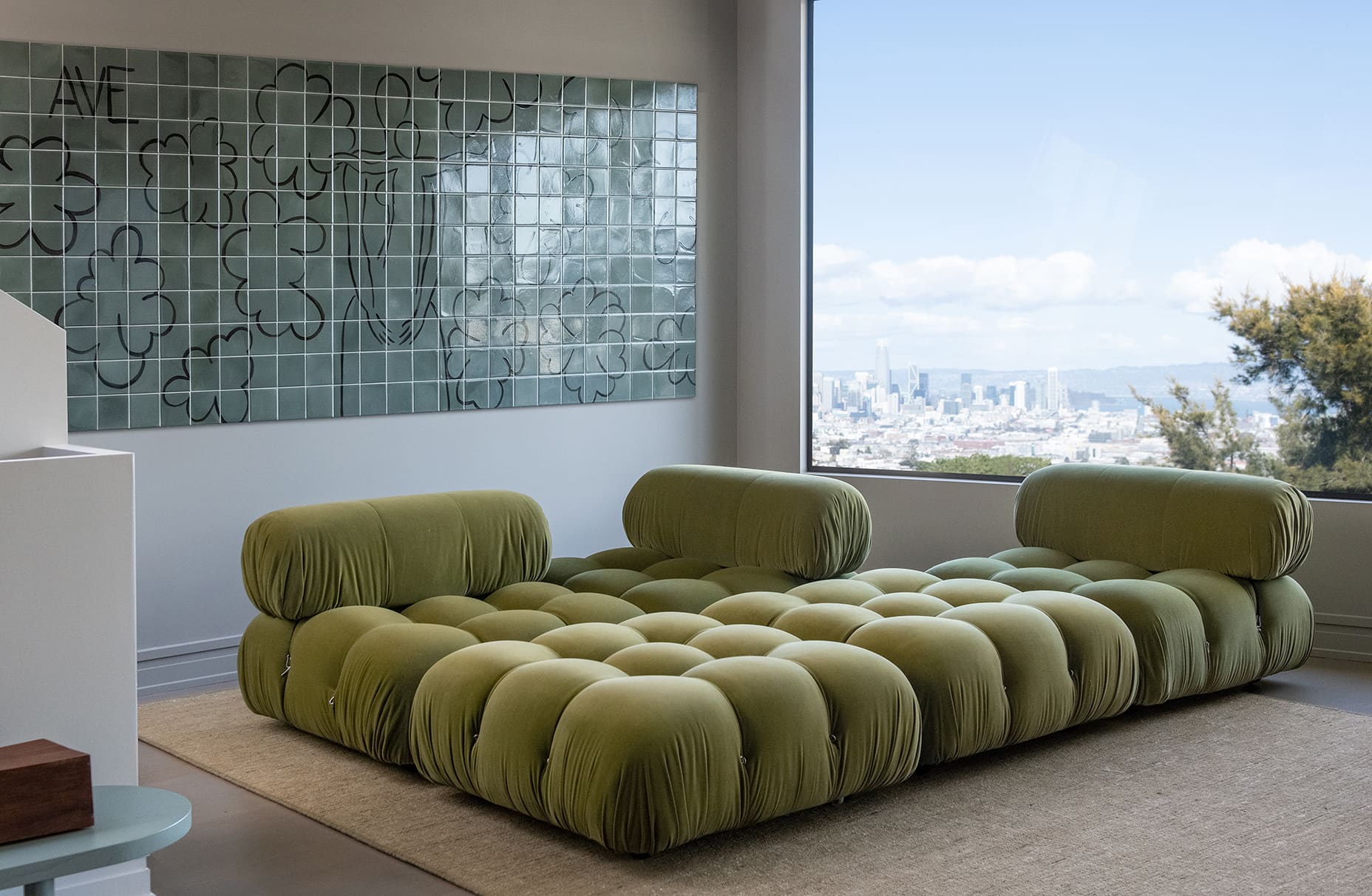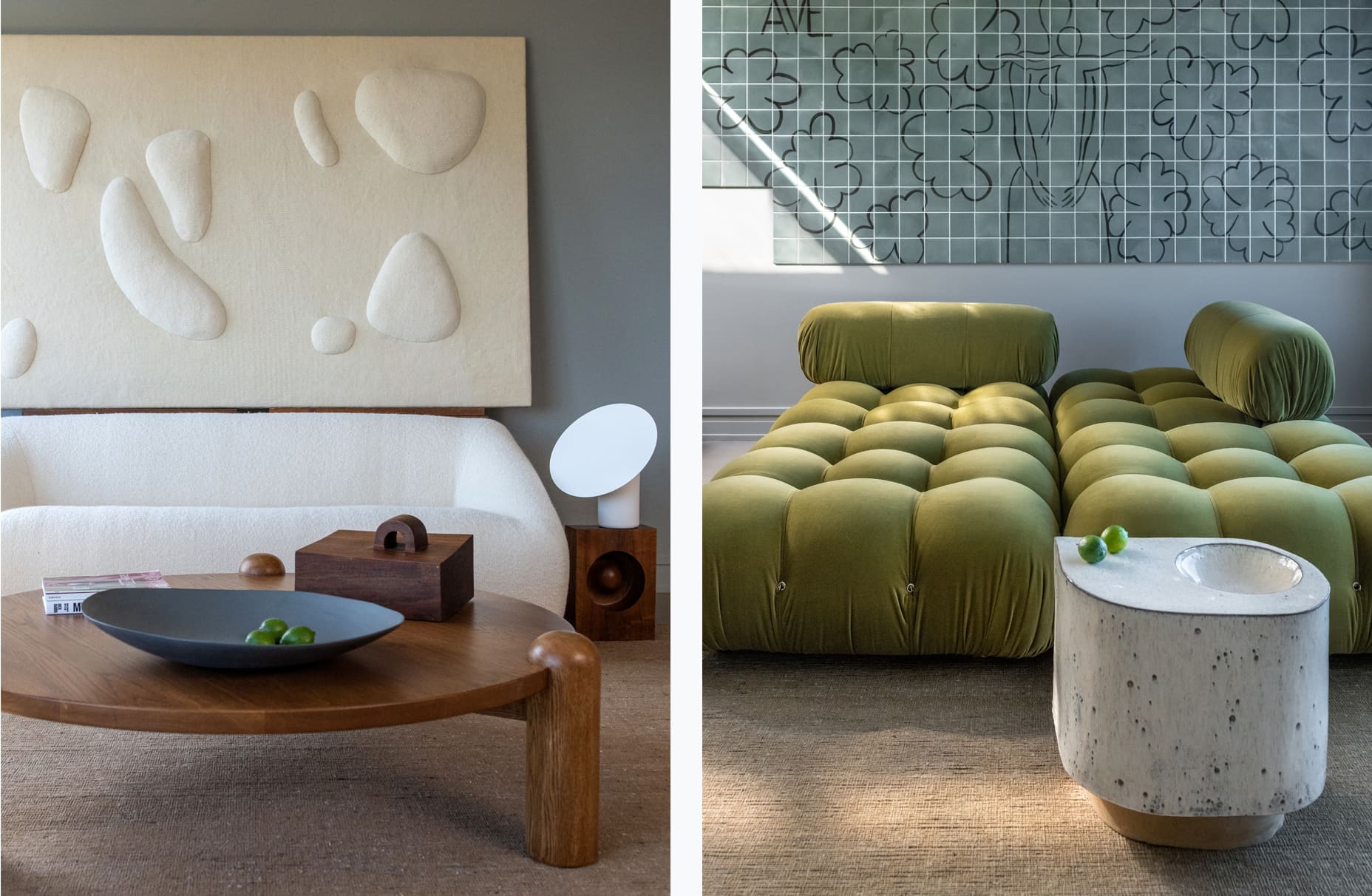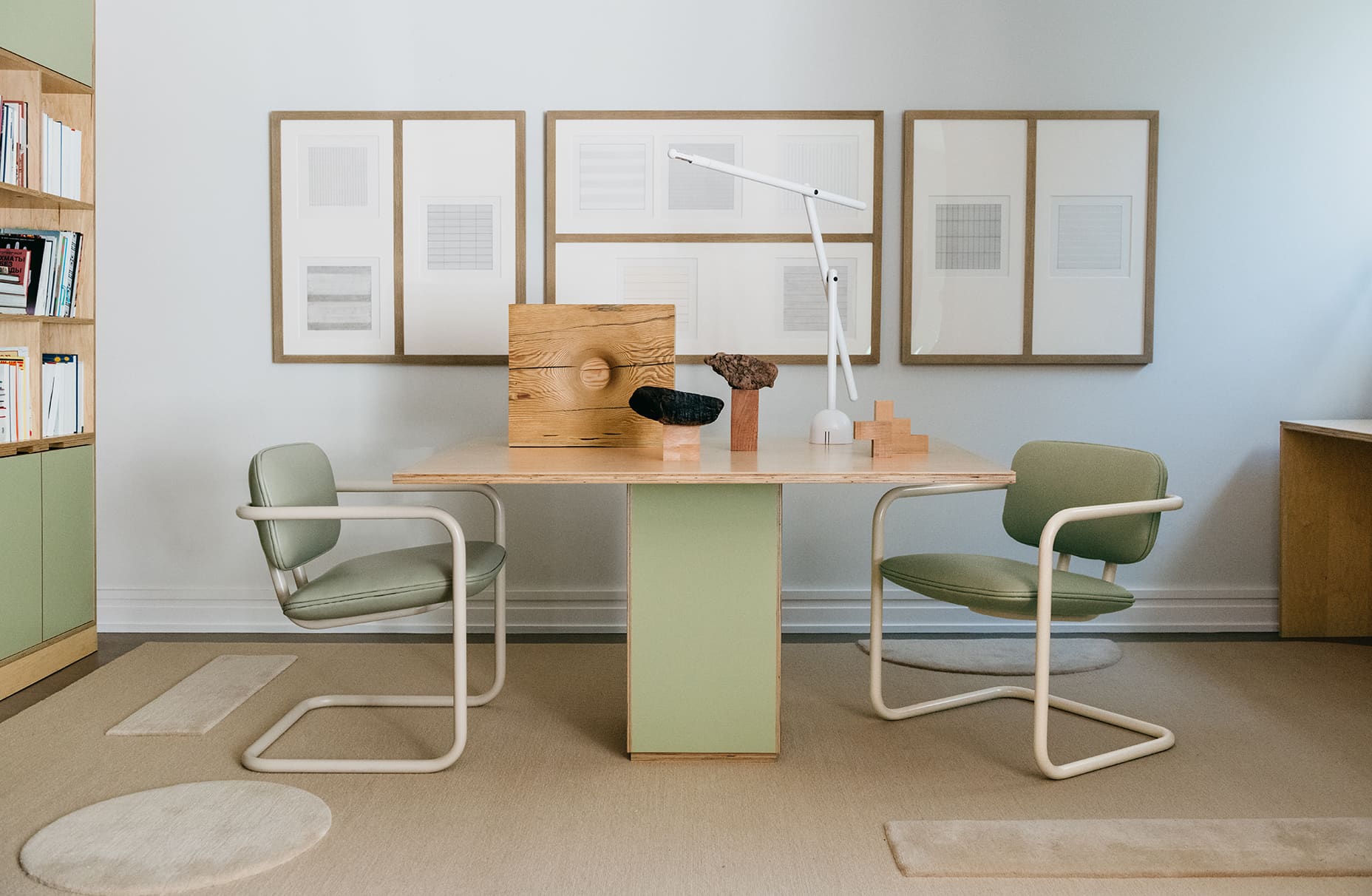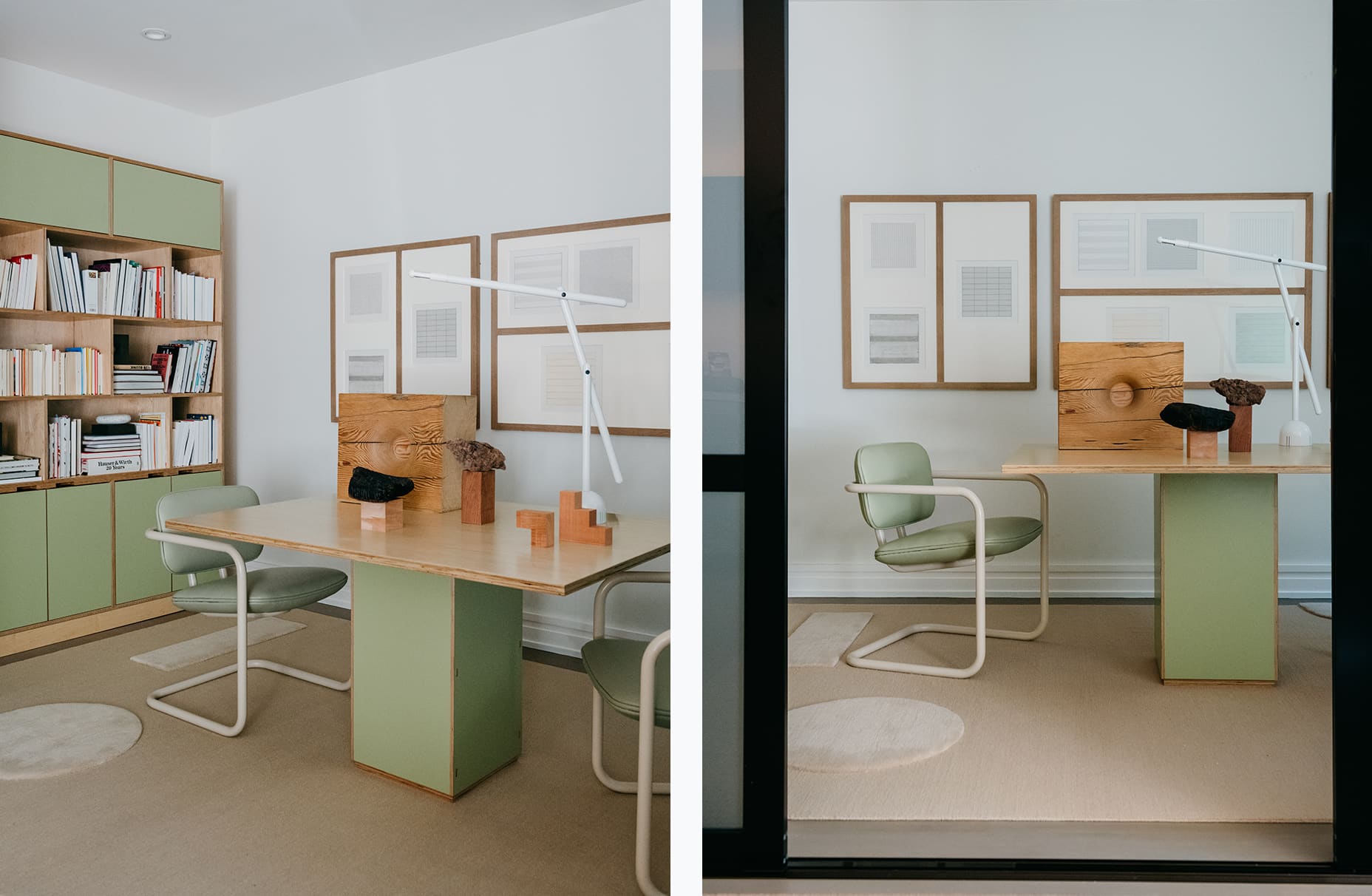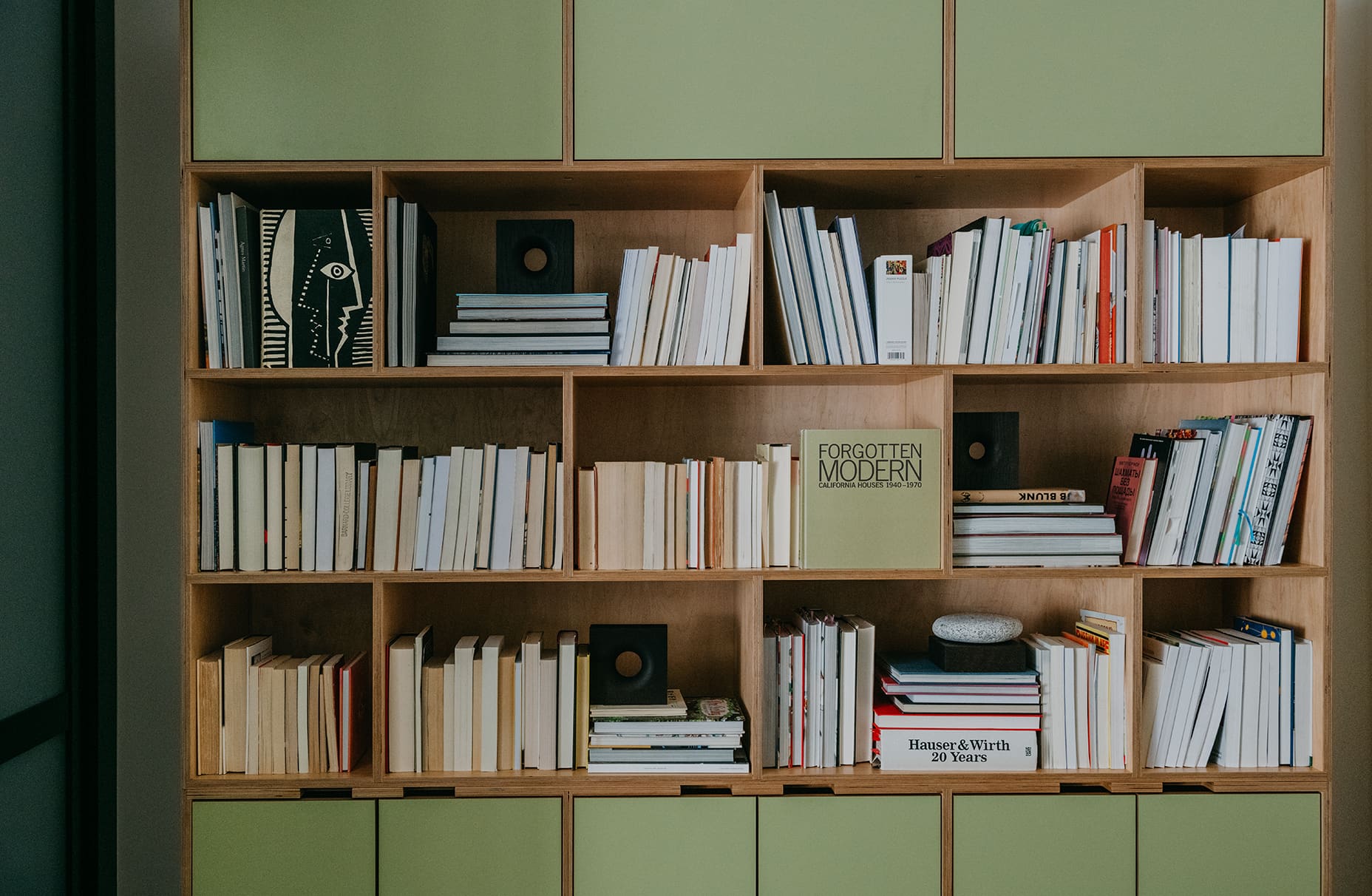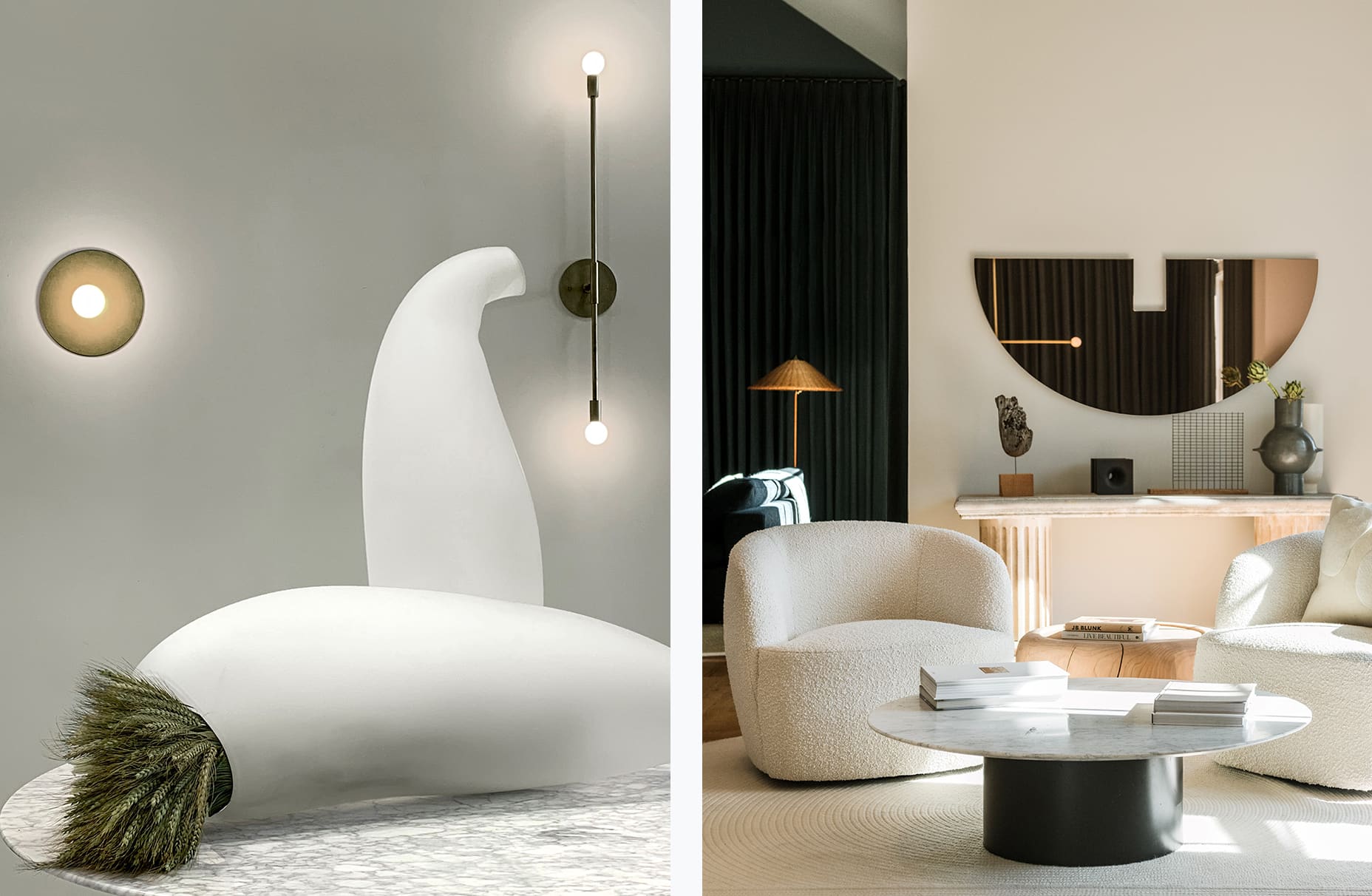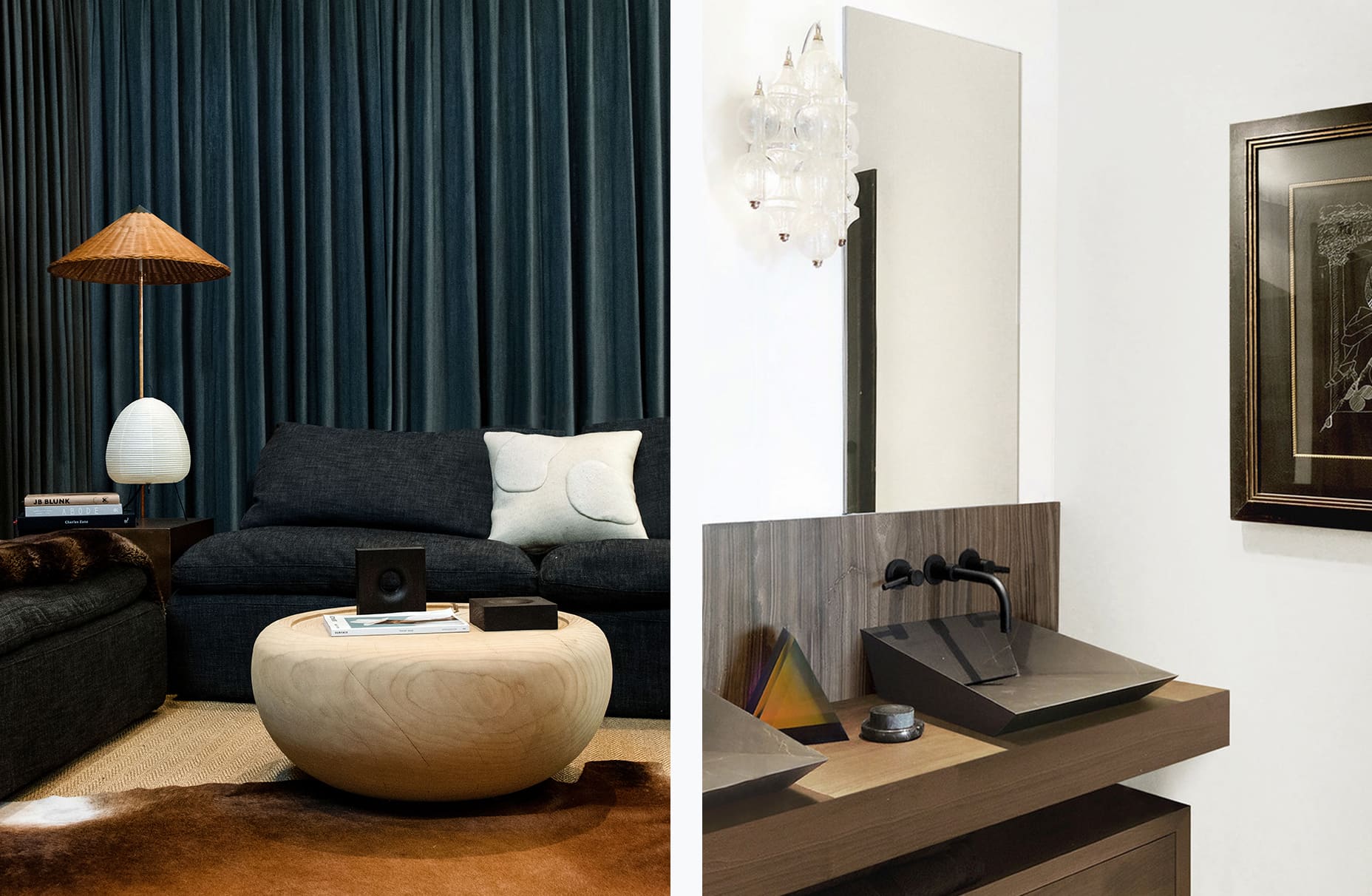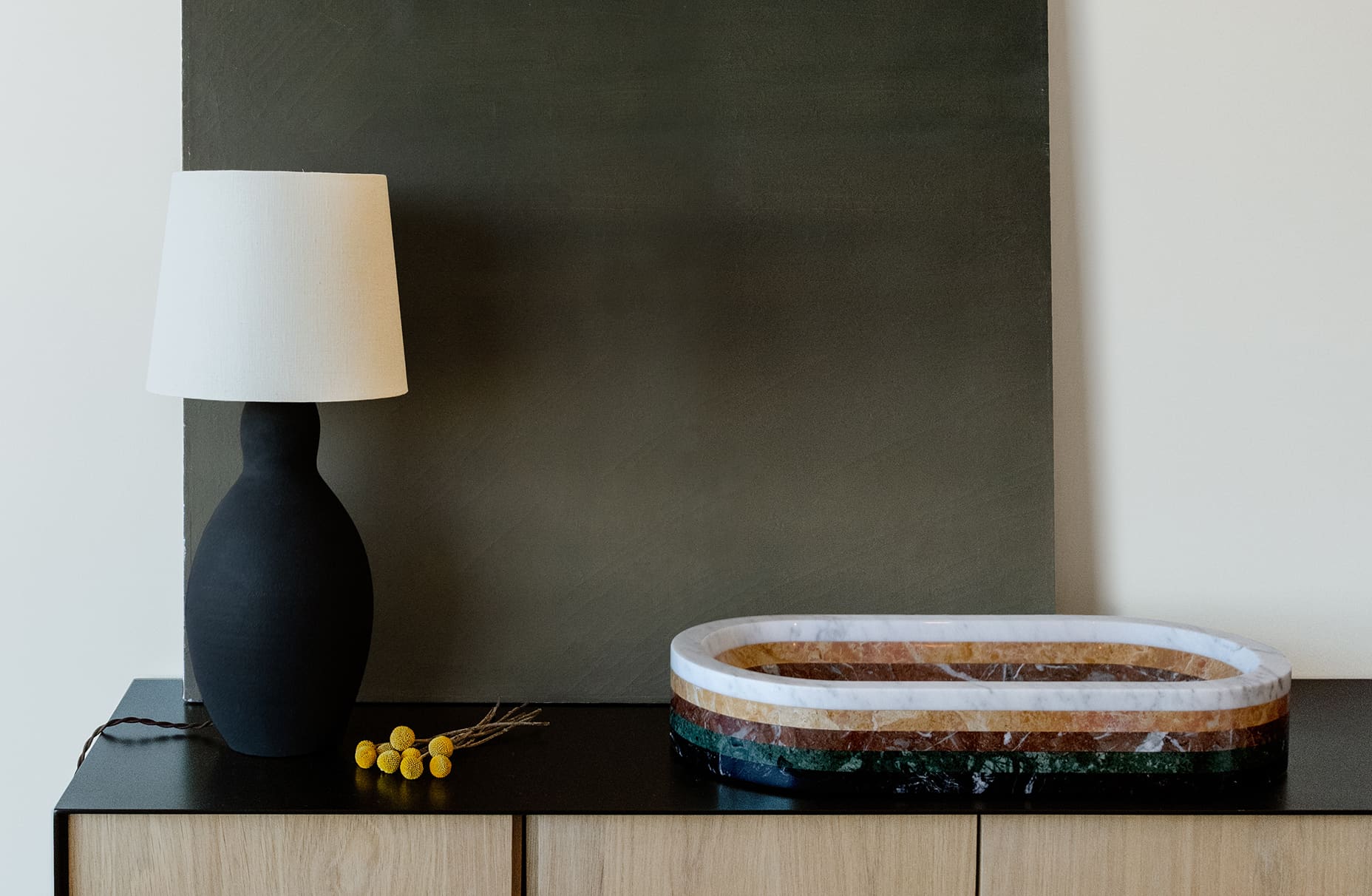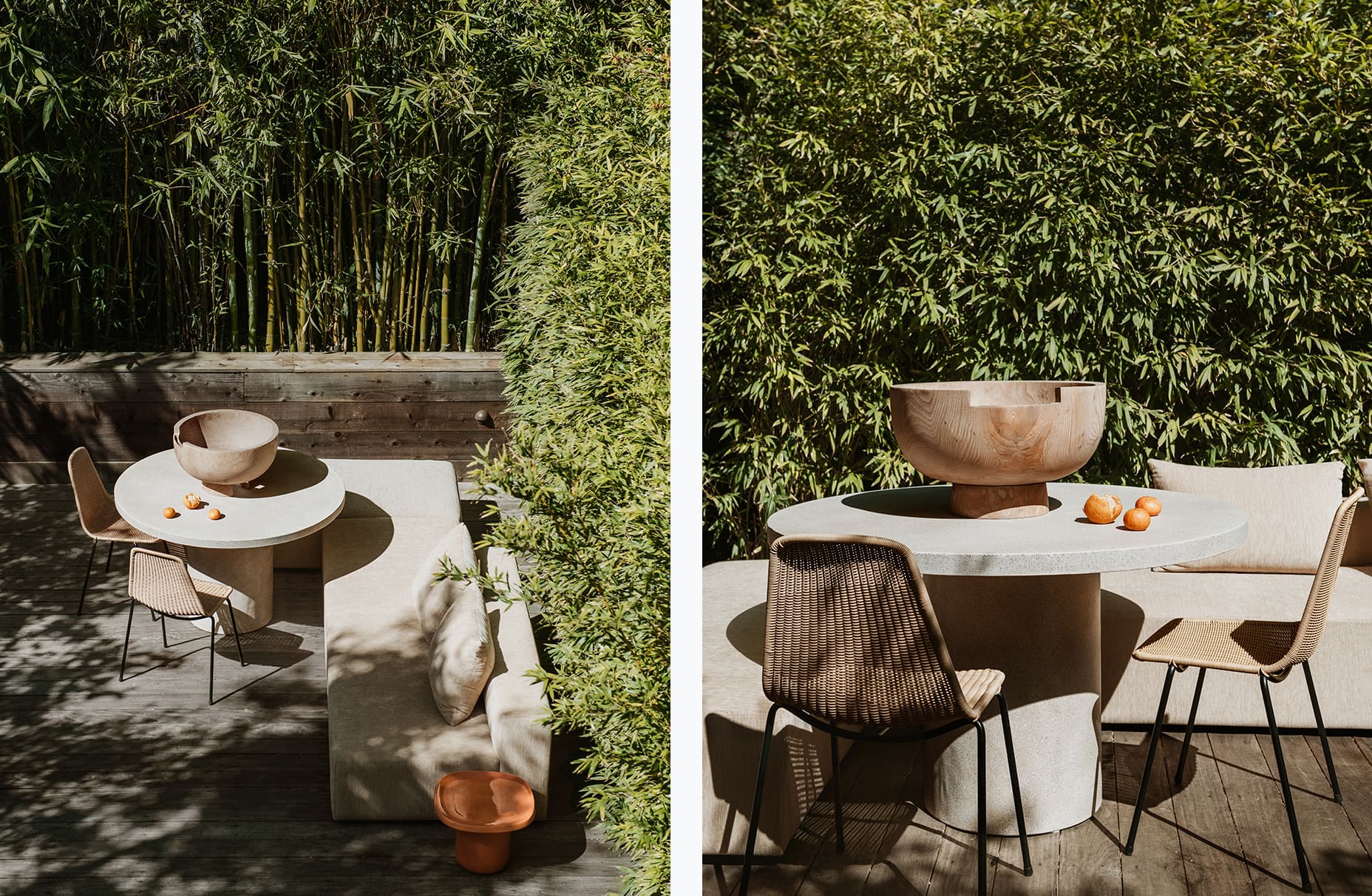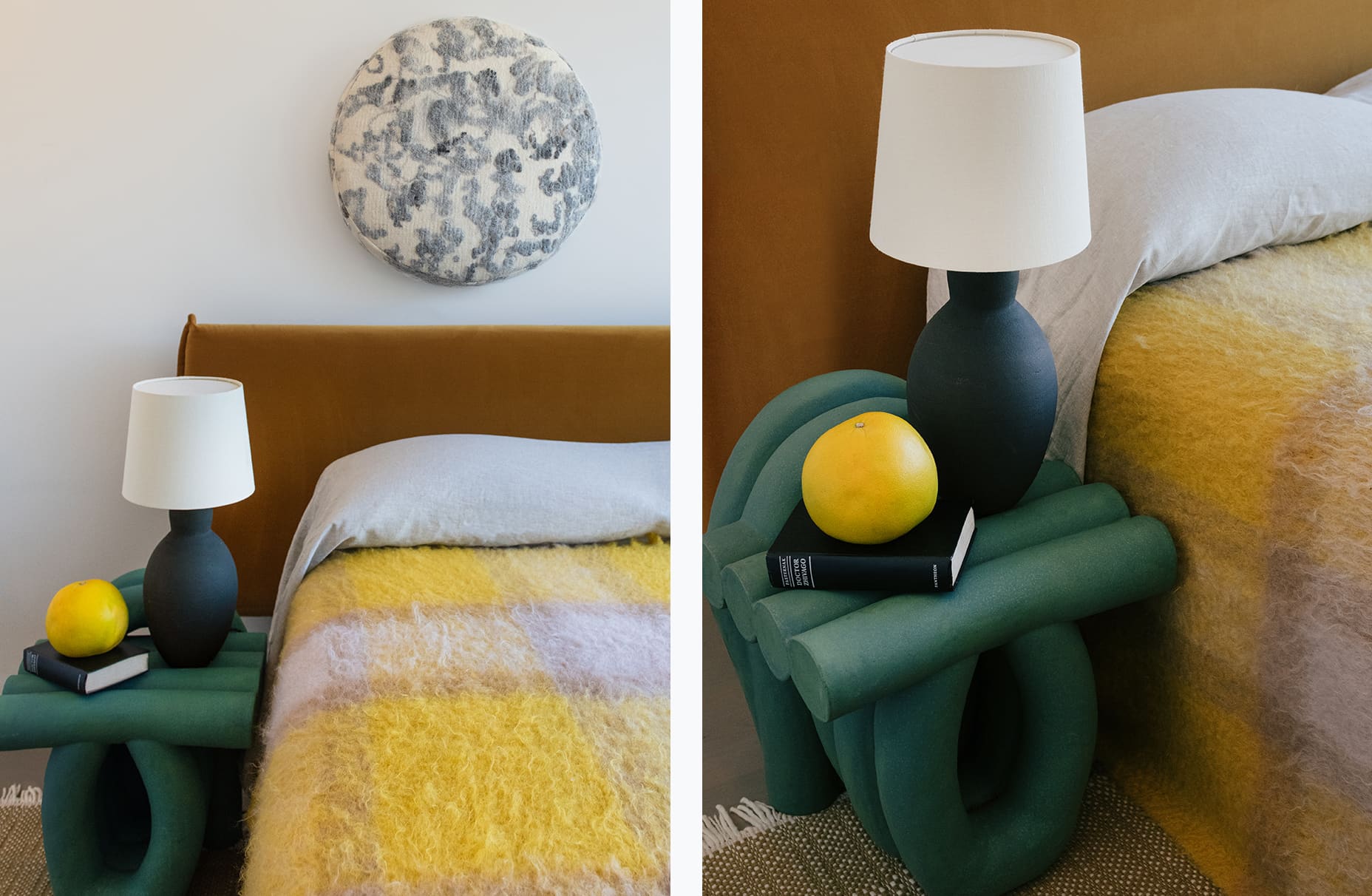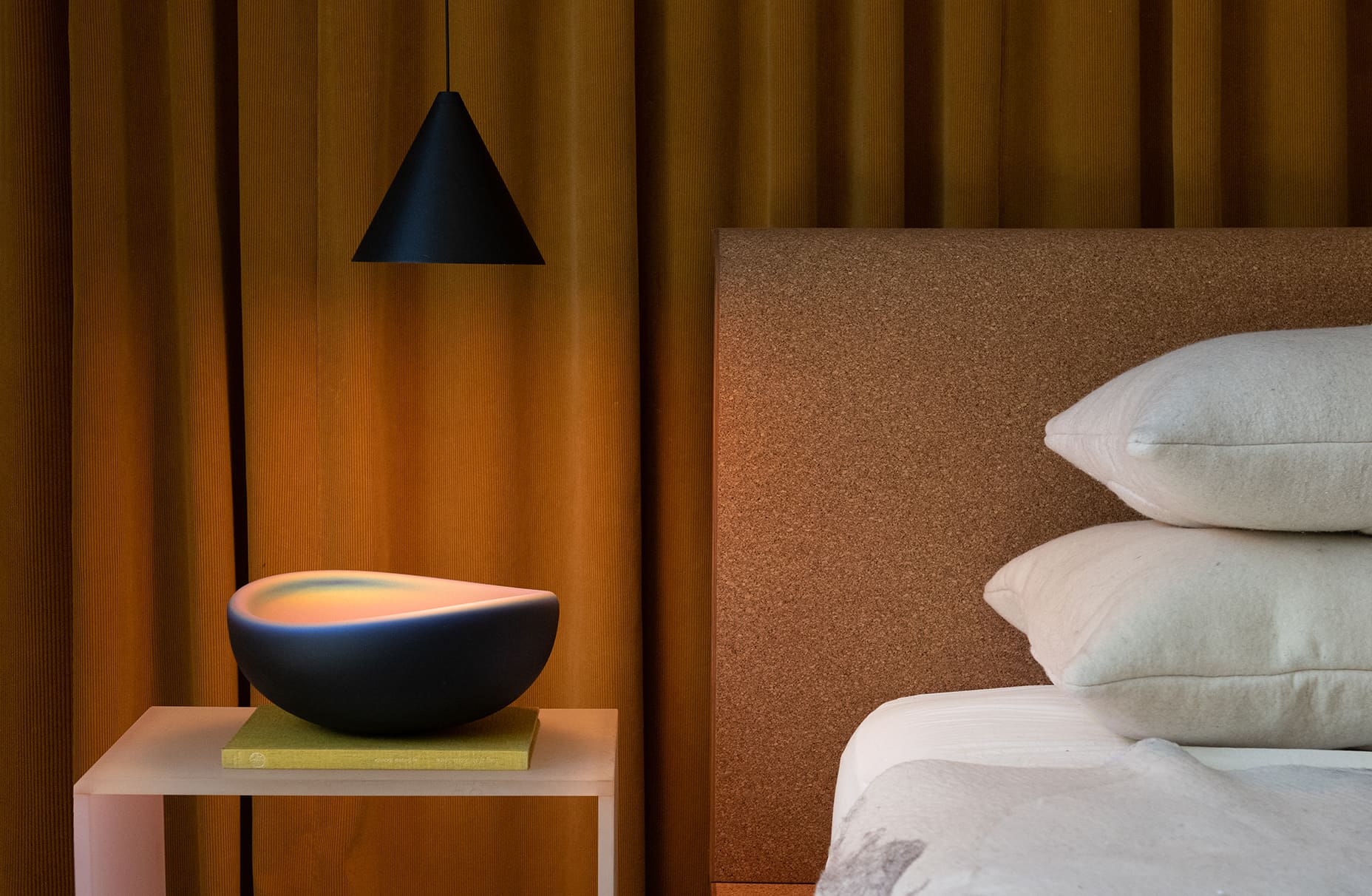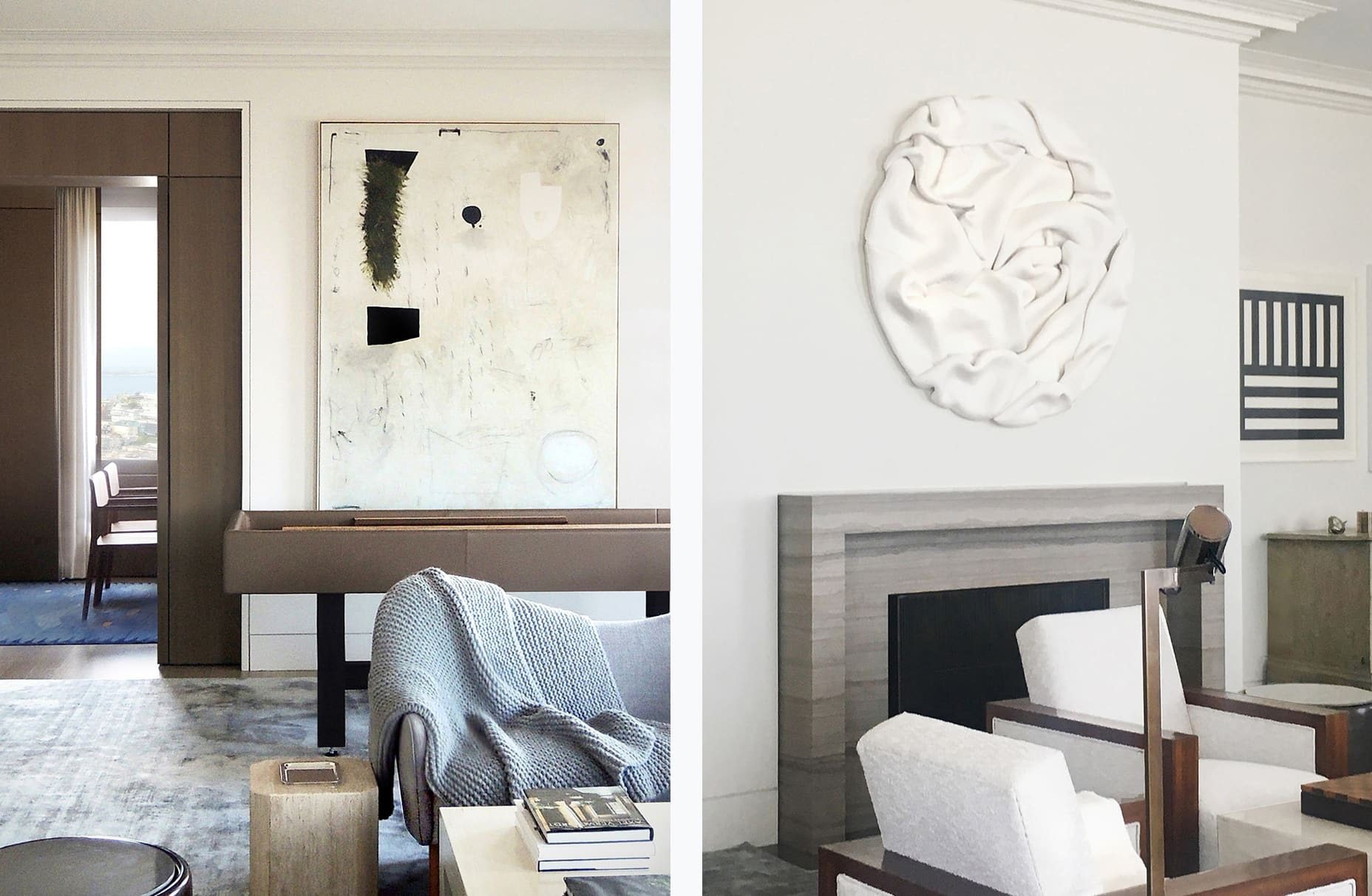 Photography: Ekaterina Izmestieva