Jaime Hayon's lecture at Arkitektura Assembly highlighted the designer's eclectic vision of the world. Over 300 people from San Francisco's design community turned out for a great evening. Jaime spoke in detail of the process of working on the new Vico chair and sofa for Cassina. He explained that Vico is also his son's name, in reference to the famous Italian designer Vico Magistretti.
Arkitektura Assembly with Jaime Hayon (Photography – Ashleigh Reddy)
Hayon's enthusiasm literally poured off the stage and I don't think anyone left the event with any doubt of his passion. Most, I suspect, even wanted his job.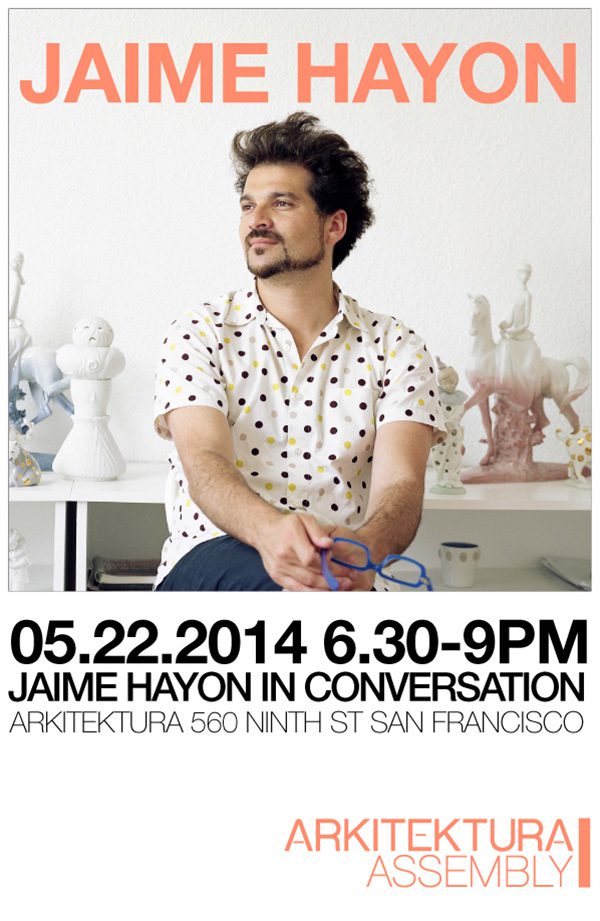 Jaime Hayon is a dynamic and vibrant presence in the world of contemporary design. His work is infused with color, sometimes whimsical and always delightful. These traits are in joyful opposition to an all too often over serious and self conscious design establishment. But these traits, and the sheer exuberance of some of his forms, can often belie an underlying seriousness and passion for the process of making. His work bears the result of a continual conversation with craft and artisanal practice.
Both his pieces and his interiors have an animate and sensuous quality, almost like characters. One feels like they might start speaking and that's precisely what Hayon seeks and thrives on, a conversation. While he has worked with the world's leading brands, he charts his own path, creating new ways to create and share.
Images from Jaime's talk: