Martino Gamper kindly stopped over in San Francisco to be part of Arkitektura Assembly. He was on his way back to London from New Zealand. Martino's presentation, using an overhead projector, shuffling through print outs and flicking through pages of books, was much like his furniture, a curious and wonderful assemblage that is always greater than the sum of its parts. Two hundred or so guests from San Francisco's design community were in attendance for the talk and helped make it a fascinating evening.
Images from the Arkitektura Assembly Martino Gamper event (Photography – Ashleigh Reddy)
Earlier in the day, Martino sat down with our own Tania Ketenjian as part of our Design In Mind podcast series. The episode will go live in late April. Until then, you can subscribe to the podcast series here and keep track of upcoming events here.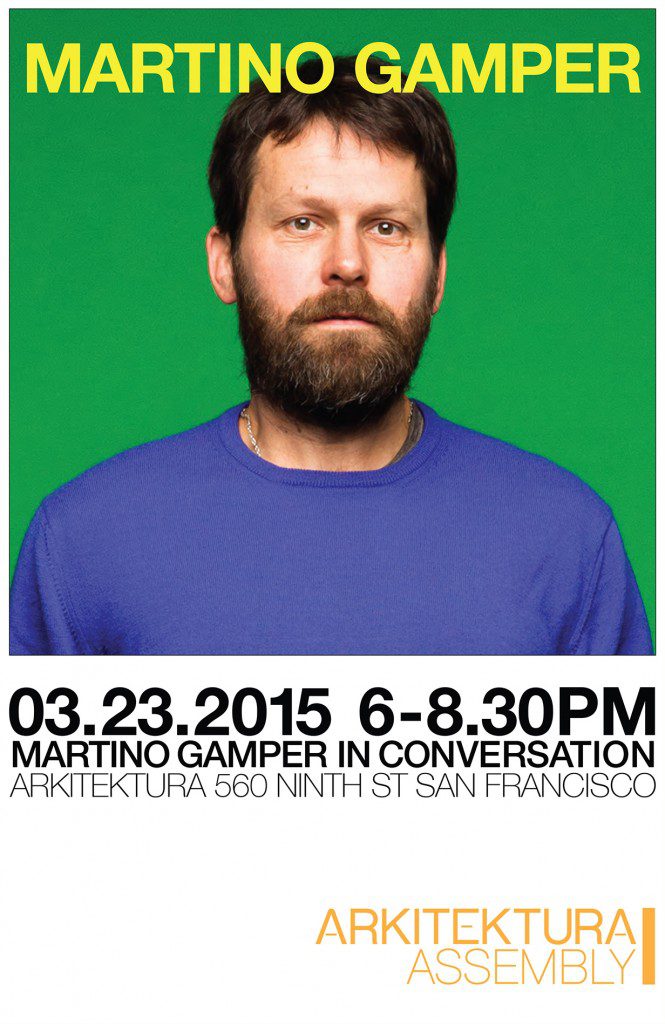 One of design's most original thinkers, Martino Gamper is a designer, furniture maker, artist and winner of this year's Icon Magazine Designer of The Year award. Gamper has made a name for himself as someone who chooses to use furniture as a medium in its own right. Working and reworking material and component, finished item or discarded remnant into 21st century bricolage, Gamper both charts the histories of design and presents alternate strategies for contemplating its future.
Born in Merano, Italy, Gamper is based in London where he takes on projects that range in purpose and scale. He seems to willfully deny simple categorization yet his projects do share certain motifs. Whether it be designing the global system of store windows for Prada through to his now famous "100 chairs in 100 days" project, his approach is investigative, humble and deeply human.
Images from Martino Gampers talk at Arkitektura Assembly: