This year's IMM Cologne furniture fair provided some wonderful new products we'd like to share with you. Take a look below at a few stand-outs arriving at our showroom(s) this Spring.
B&B Italia:
Bay & Tabour Outdoor
by Doshi Levien
Bay is a collection of sculptural and monolithic yet visually light outdoor seats comprising of a sofa in two sizes, an armchair and a high-backed armchair. Their enveloping volumes are marked by a double polypropylene fibre interlacing that creates "air pockets", granting transparency and lightness to the furniture. The frame accommodates padded solid seats and soft cushions for added comfort. The colors combinations are extremely refined, with tortora and anthracite for the interlacing, paired with elegant block color and patterned fabrics for the seats and cushions.
Tabour, the collection of indoor ottomans introduced in 2016, now features a new outdoor version. Oblong oval and square in shape, they resemble primeval marine creatures or large unicellular animals, associating the sensuality of the organic shapes with highly technological materials. The fabric is stretched over the padded frame by a sort of oversized "button" that serves as a tray, painted white, tortora or anthracite.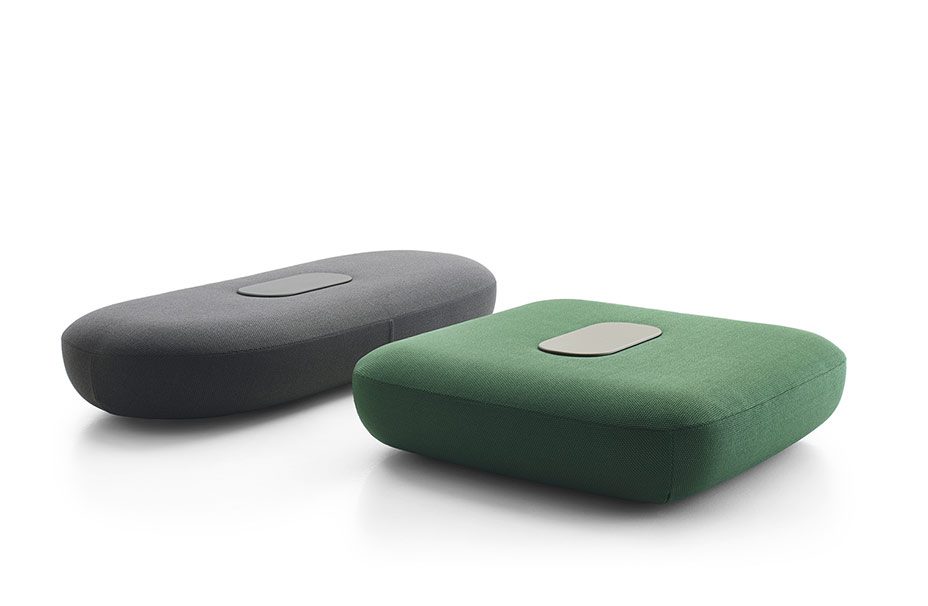 Fiore
by Naoto Fukasawa
Fiore is a new series of outdoor tables, round and square available in two heights, in white or gray cement. "Many years ago, I called my chairs "Papilio" because their silhouettes reminded me of butterflies," says Naoto Fukasawa. "Now I have called my latest project "Fiore", meaning flower in Italian, because the Papilio chairs sit around these tables like butterflies flying around a flower. The combination of a Fiore table with the Papilio chairs creates a pleasant outdoor environment for a coffee or a quick meal."
An outdoor solution that offers utmost flexibility, suitable both in residential and public settings.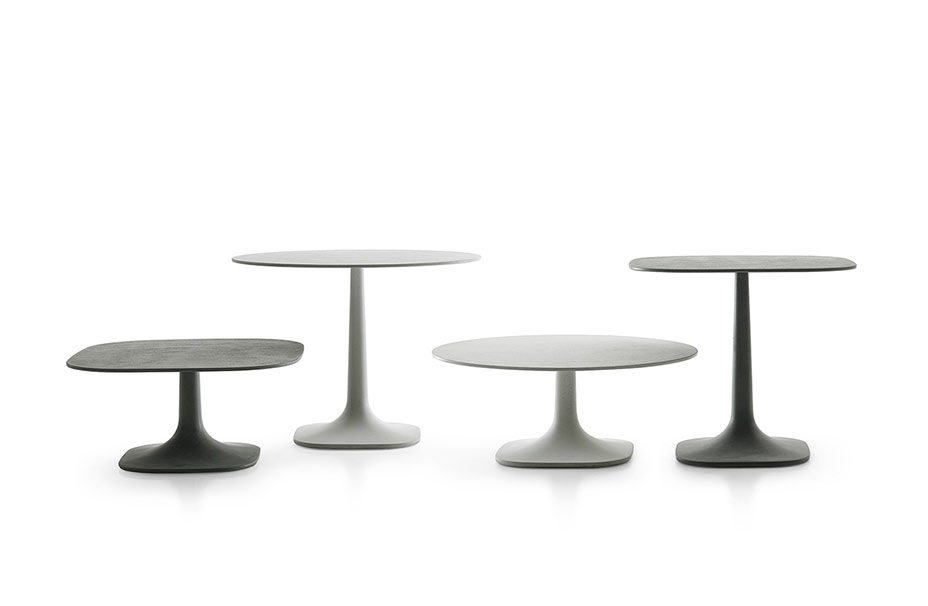 Twist and Kaleidos
By CR&S
The outdoor collection is further enriched by the new Twist and Kaleidos carpets. Specifically designed for outdoor use, they are produced in polyolefin and come in various sizes. Twist features a pattern of intertwined strips in six sophisticated solid colors: rope, green, tortora, grey, anthracite, blue. The multi-colored blend of Kaleidos, instead, matches perfectly with the hues of the outdoor collection.
Minotti:
Morgan Marble Table
By Rodolfo Dordoni
Extraordinary elegance and undulating shapes take the Morgan Marble table to new heights. Reinterpreted with a contemporary vibe and enhanced with eloquently luxurious materials, like fine marble, it fits confidently in sophisticatedly stylish settings, establishing a congenial dialogue with the many complementary pieces from the indoor collection.
The slender, diamond-shaped, bronzed metal supports lend a sleek line to the table. The top, available in Calacatta marble, has a contoured perimeter and features a bronze color, satin-finish metal border. Available on request, a Lazy Susan in the same marble finish, can be added to the center of the table top as a service feature or a purely decorative element.
ClassiCon:
Bow Coffee Table
by Guilherme Torres.
Inspired by 1970s lines and designs, Brazilian Guilherme Torres presents a coffee table of casual elegance. The three sizes are coordinated in a way that allows the tables to be arranged individually or as a group and with overlapping tabletops, like a dynamic sculpture.
Piega Mirror
by Victoria Wilmotte
With the Piega Mirror French designer Victoria Wilmotte brings an object of extraordinary crystalline elegance to living environments. The bends and folds of the mirror-polished stainless steel create a fascinating play with the refraction of light in any room. With its three-dimensional structure, the mirror thus becomes a vivid object.
Piega Mirror was also just awarded winner by Stylepark Selected imm cologne 2018.
Wastberg:
W171 Alma Light
Designed by Tham & Videgård
The starting point for w171 alma is a circle of soft sine waves diffusing light. The shape is based on a rotated sine wave, where light and shadow create a readily recognisable character. The lamp doubles as a solitary, for example freely suspended above a table, and in a group in a larger room – where it can create a pattern of floating points of light, like a ceiling of lights.
The light image of concentric circles can be varied depending on the choice of light source in the E27 socket. The soft and reduced shape creates a pleasant atmosphere and lends a sculptural feeling, even in daylight, when the satin matte finish and colour of the surface emerges. With its slim silhouette, w171 alma can be mounted directly onto the ceiling or wall, or suspended freely. This makes it easy to adjust the light to the requirement of the situation.
Te w171 alma lamp was originally developed for a brand new co-working facility project in Stockholm, called Alma. Tham & Videgård was entrusted with refurbishing the five floors, and with developing the light sources of the building together with Wästberg.
GAN:
Parquet Rug
Designed by Front
Overlays and visual effects come together as a geometric puzzle in the latest GAN kilims de GAN, collection, created by the Swedish design team Front.
Anna Lindgren and Sofia Lagerkvist have expertly combined the patterns and geometries of traditional flooring with new shapes and colors, creating rugs that feature a three-dimensional matrix, accentuated by their irregular shapes. Parquet embraces GAN's philosophy of integrating traditional and new elements with Scandinavian simplicity.